So what is SEO?
If you are looking for a product or service locally or internationally, where do you go to? 90% of the time you will grab your mobile or your computer and search on Google or other search engines.
Now, the big question is, IS YOUR BUSINESS VISIBLE ON THESE SEARCH ENGINES? Most specifically, the most used search engine, Google?
This is where SEO comes in. SEO or (Search Engine Optimization) is the process of getting your website on top of search results on search engines like Google.
Benefits of SEO
So what if I'm on top of search results?
Well to answer this is who will get most likely to be visited? The links on the 1st page of search results? or the links on the 10th, 11th or the 20th page of search results? Of course on the 1st page!
Statistics will show you that if you are on top of search results with the proper keyword, you will get significantly more visits compared to other websites who are not on the 1st page of search results.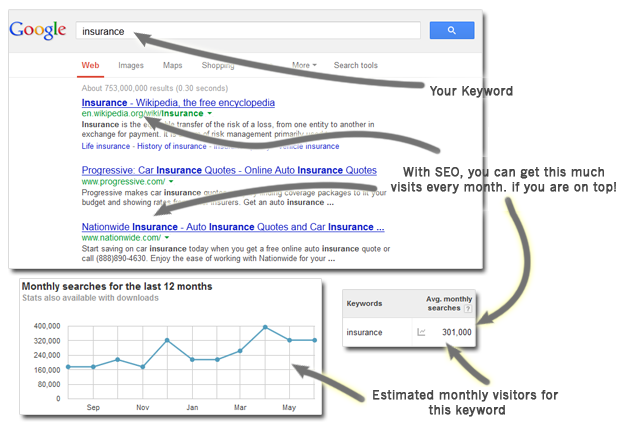 With our unique way of doing SEO, we carefully analyze our clients website,  business market and their target customers to provide the best results for them. We only use WHITEHAT methods. this means we dont use spam links that google or other search engines hates. This will take longer to take effect but once it happens, the rankings will stay longer than any other methods if not permanent.
Process:
7 Simple Steps for our SEO Service
Web and Market Analysis
This is where we analyze your website and your target market so we can get the best results.
Planning
After understanding your website and your target market, we will then do all the strategic planning for you. So you can sit back relax and let us do our magic.
Keyword Research
Once we have finalized our SEO plan of actions for your website, we will then move to the keyword research, where we suggest carefully researched keywords that best fit your website and business needs.
Onsite Optimization
As soon as the keywords are finalized, we will now start optimizing your website. This includes editing your meta tags, descriptions, site structure, and more. But dont worry! we wont touch your website design, it will stay exactly the way it is.
Link Building, Social Media, and Audience Building
After optimizing your website, we will then start building credibility on your website by adding links towards your website, making your website visible on the social media world, and get people to listen by building an audience.
Maintenance 
After everything is done, we will be keeping your SEO health intact so that you can maintain your rankings as long as possible.
Reporting
Are you having a blast with all those visits and sales on your website? Good! We will be providing you monthly traffic reporting and keyword rank statuses each month to keep track on how much it has improved or if it needs more improvements.
Rates:

Our SEO service rates vary depending on your website, your target market and your keywords. This may go from $400 and higher depending on how much you want to achieve with SEO.
Email us so we can discuss how we can improve your website rankings and get your business pumped with search engine traffic.
Contact us by visiting this page: CLICK HERE